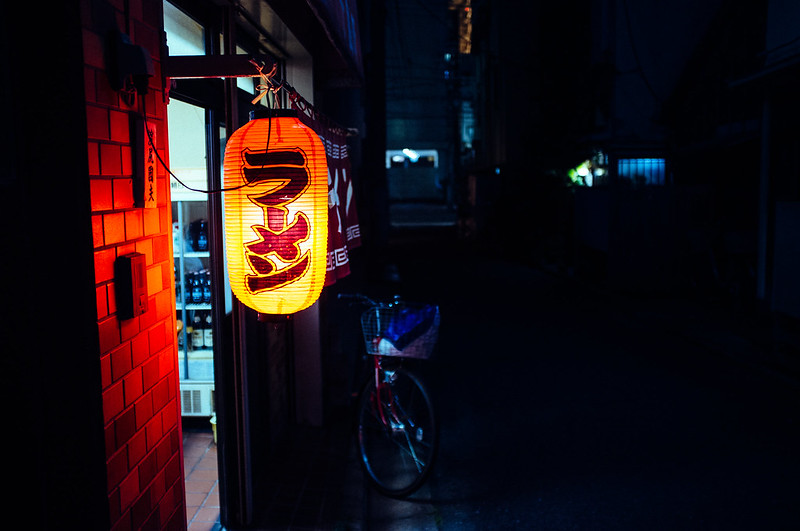 photo by Fabian Reus
Ramen is Japanese soul food, also well-recognized in many other countries thanks to local ramen shops run by local entrepreneurs and famous Japanese ramen chains that have opened shops overseas. Ramen has its origin in China but it has been modified by Japanese people in the form of many different types of local ramen. Also, in big cities like Tokyo, numerous ramen shops are established and form high competition. Likewise, Tokyo is a rare place where you can taste all types of ramen across Japan while you stay in one place.
Okachimachi: Ezogiku (Sapporo Ramen)
Just a short walk from JR Okachimachi Station, Ezogiku, which can be found among eatery shops underneath the elevated railway tracks, is a Sapporo ramen shop as you can guess from its name. (Ezo is the old terminology meaning current Hokkaido) They have several flavors of ramen including miso, spicy miso, soy, and salt, but the most popular one is always the miso flavor. Little heavy middle-thick noodles with a light-tasted miso-based soup and plenty of bean sprouts will fill you up. Noodles and toppings can be added for 100 yen each. By the way, adding extra of all items will make your ramen super large, if you think you are a big eater, you should try it!
Ezogiku
Address: 5-20-4 Ueno, Taito-ku, Tokyo
TEL: 03-3836-9093
Opening hours: 5-20-4 Ueno, Taito-ku, Tokyo
Access: 1 minute from JR Okachimachi Sta.
Zoshigaya: Mimizuku Ramen (Tsukemen)
Exactly expressing its own name "Mimizuku Ramen", there are many motifs of owls in this shop. This is because the owl figure made of pampas grass is known as the mascot of the nearby Kishimojindo. This shop has two types of ramen, normal ramen in soup and tsukemen (ramen dipped in a dipping sauce). Soup ramen is soy sauce base and light tasted. The thin noodles go well with the soup. Tsukemen is also a soy sauce base but this sauce has a sourness and is very refreshing. Also, you can upsize your ramen for free of charge!
Mimizuku Ramen
Address: 3-2-6 Zoshigaya, Toshima-ku, Tokyo
TEL: 03-3971-0584
Opening hours: 11:30 – 21:00 (Closed Sunday)
Access: Short walk from Toden Arakawa Line Kishimojin Sta.
Ginza: Manpuku (Soy Sauce Ramen)
Manpuku is an old-established ramen shop started from a food stand in the Taisho Period. It looks like as if you can hear the characteristic sound of a trumpet telling you that a ramen stand is opening. This shop's ramen is super traditional chicken broth ramen. Thin noodles in clear soup are light tasted but fill you up. Both the interior of the shop and its ramen have nostalgic tastes and make you feel as if you have been there before. Also, cold noodles are also popular here. So popular that they are now served all year. Wonton noodles and fried rice are also nice.
Manpuku
Address: 2-13-13 Ginza, Chuo-ku, Tokyo
TEL: 03-3541-7210
Opening hours: 11:00 – 15:00/17:00 – 21:00 (Closed Sun & public holidays)
Access: 3 minutes from Tokyo Metro Yurakucho Line Gina 1-chome Sta., 4 minutes from Tokyo Metro Hibiya Line Higashi-Ginza Sta. or Tokyo Metro Shintomi-cho Sta.
Nishi Waseda:  Tinun (Tom Yam Ramen)
Tinun is not a Japanese eatery or Chinese food shop, but a Thai restaurant. It opened in the '90s, about 30 years ago, serving Tom Yam ramen which is a combination of Tom Yum Goong and Japanese ramen. Thai restaurants are everywhere now but back then, Thai food wasn't very familiar to Japanese people, therefore Tinun's tom yum ramen became a big hit. Sour and spicy Tom Yum Goong and thing ramen noodles are the perfect matches. Once you try it, you will fall for it.
Tinun
https://tinun.jp/
Address: Yokogawa Building 1F, 2-18-25 Nishi Waseda, Shinjuku-ku, Tokyo
TEL: 03-3202-1865
Opening hours: 11:00 – 22:30
Access: 10 minutes from JR Seibu Shinjuku Line Takadanobaba Sta., 5 minutes from Tokyo Metro Fukutoshin Line Nishi-Waseda Sta.
Adachi-ku: Tanaka Shoten (Tonkotsu Ramen)
Ippudo and Ichiran are famous Japanese ramen franchise which are also known in other countries for tonkotsu ramen. Tanaka Shoten is the most popular tonkotsu ramen shop in Tokyo. Their menu is quite simple with just "Ramen", "Ramen with steamed pork", "Ramen with chopped spring onion", "Ramen with steamed pork and chopped spring onion". Of course, all ramen dishes are served in tonkotsu soup. Other than these four dishes, they have a few side menus like Mentaiko rice, showing their strong passion for tonkotsu ramen. The rich but surprisingly light flavor is outstanding.
Tanaka Shoten
Address: 2-14-6 Hitotsuya, Adachi-ku, Tokyo
TEL: 03-3860-3232
Opening hours: 18:00 – 28:00
Access: 13 minutes from Tsukuba Express Rokucho Sta.
Bon appétit!
For lunch, light dinner, or after drink snack, ramen is surely a soul food for Japanese people. Miso ramen from Northern Japan, soy-based chicken broth ramen from Central Japan, tonkotsu ramen from the Kyushu region, thick noodles, thin noodles, and curled noodles, all these local ramens are different in the type of noodles and flavors. Tokyo is a rare place where you can taste all these different types of ramen. If you are in Tokyo now, this is a great chance for you to complete all kinds of Japanese ramen, so hop outside and find your favorite ramen shop!