photo by Koichi Hayakawa
2022 is coming to an end. The rapid depreciation of Japanese yen has been invigorating the once-slumped Japanese tourism retrieving international tourists back to Japan. Famous tourist destinations like Tokyo, Kyoto, and Hokkaido are popular among international tourists throughout the year, and you may find many different aspects of Japan when visiting famous tourist destinations in each season. Each city or town has its own charms, other than these famous sites, there are many places to visit that show you rare sceneries only available during wintertime. This column will introduce 5 best tourist destinations you should visit during December.
Hokkaido: Shirogane Blue Pond & Shirahige Waterfalls
photo by Yusuke Miyahara
Hokkaido has many fantastic sightseeing sites such as Sapporo, Otaru, and Furano. But other than these places, especially during wintertime, you mustn't miss Shirogane Blue Pond in Biei Town. As can be imagined from its name, Shirogane Blue Pond is a beautiful pond with beautiful blue water. From spring to autumn, you would see a dreamy scenery of blighted larches mirrored on the blue water's surface. However, as Biei Town is located in around the center of Hokkaido, the blue water is already covered under icy snow thus invisible in December. Instead, there is a light-up of snow on the pond and the surrounding woods. The lights are programmed to change with several patterns every 10 minutes, showing fascinating views like in a wonderland.
Also, drop by the nearby Shirahige Waterfalls which is also illuminated. You can enjoy a magnificent view of nature which can be seen only in Hokkaido.
Yamagata Prefecture: Zao Snow Monster Illumination
photo by 8ware
Zao is a mountain which is located on the border of Yamagata Prefecture and Miyagi Prefecture. Many people visit there for bushwalking or hiking in summertime and skiing and snowboarding during wintertime. This place is also well-known for frosted trees called snow monsters which are created by the moisture in the air blown and frozen onto tree branches and leaves in the sub-zero temperature and the snow trapped among the ice. At the Yamagata side of Zao, snow monsters are illuminated between late December to February. The scenery with gigantic snow monsters lit up with various colors is a must-see in Zao during wintertime. To watch snow monsters closely, you need to take a ropeway gondola from Juhyo Kogen Station to the summit and walk around at the summit. The illumination of snow monsters can be seen during nighttime, so make sure you wear appropriate gear to protect yourself from the cold.
Yamagata Zao Snow Monster Illumination
Period: December 24, 2022 – February 27, 2023
Gondola operating hours: 17:00 – 21:00
Gondola fares: Adult \3,500, Child ¥1,800
Kanagawa Prefecture: Autumn Leaves in Kamakura & Enoshima Illumination
photo by nagi usano
When it comes to visiting temples and shrines in Japan, you probably first think of Kyoto and Nara.
Kamakura used to be where the feudal government was placed from the 12th to 13th century while many Buddhist denominations arose in the same period, and there are many temples and shrines here in Kamakura. These temples and shrines are known for beautiful gardens with mesmerizingly colorful autumn leaves. Among them, Tsurugaoka Hachimangu, Hase-dera, and Engaku-ji are famous for their beautiful autumn sceneries. Also, Enoshima Island in Shonan area, which can be accessed by tram from Kamakura, the Enoshima Sea Candle (lighthouse observation tower), and its surrounding area are illuminated from November to February. During December, enjoy autumn leaves in Kamakura during the daytime and a walk in the dreamy illumination at Enoshima Island at the evening.
Enoshima Illumination
Period: November 23, 2022 – February 28, 2023
Gifu Prefecture: Shitakawa-Go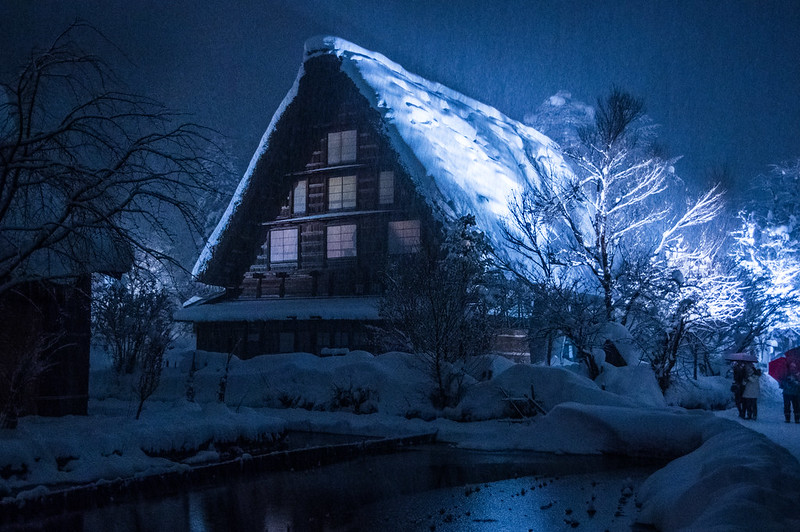 photo by sakaki0214c
Shirakawa-Go is a small village located on the watershed of the Shogawa River, Gifu Prefecture, which is well known for houses with a sharp triangle roof called Gassho-zukuri. This little village used to become completely isolated during wintertime because of heavy snowfalls, therefore it was considered one of the most secluded regions of Japan. Now, we can access Shirakawa-Go by car all year round and see a fantastical view of traditional houses with snow-topped steep roofs standing on the snowy ground. In Shirakawa-Go, the first snow of the season falls in November and it starts snowing heavily in late December. Busses departing from Kanazawa, Toyama, and Nagoya or driving a car are the main transport options to access Shirakawa-Go because there is no railway station or airport nearby areas. It takes quite a long: about 90 minutes from Kanazawa and Toyama, and 2 hours from Nagoya. But the mesmerizing scenery of traditional Japanese countryside is a must-see.
Hyogo Prefecture: Kobe Illuminage/Kobe Luminarie Cassa Armonica
photo by Shoko Muraguchi
Among other seaport cities of Japan, Kobe is a particularly popular among travelers because it has an exotic ambience that no other sightseeing sites have. At the Kobe Fruit Flower Park Osawa which is located on the north side of Kobe City, the Kobe illuminage, a winter illumination event, is held from November to February each year. You will never be bored with looking at the fantastic view of beautifully lit illumination artworks.
Speaking of winter illuminations in Kobe City, the most well-known illumination event in Kobe City is the Kobe Luminarie which was started in 1995 in commemoration of the Great Hanshin-Awaji Earthquake. Unfortunately, the Kobe Ruminarie has been terminated since 2020 due to the coronavirus pandemic. Instead, the Cassa Armonica, a music and illumination event, has been held in Nankin-machi. Visitors enjoy the beautiful stage illuminated like a cathedral and musical performances.
Kobe Illuminage
Period: November 19, 2022 – February 26, 2023
Opening hours: 17:00 – 22:00(Illumination 17:30 – 21:30)
Venue: Kobe Fruit Flower Park Osawa
Fares: Adult (junior high school student and older) \1,500, Child (Primary school student and younger) \1,300
Kobe Luminarie Cassa Armonica
Period: December 9 – 18, 2022
Enjoy Japanese winter!
All the places introduced in this column have fantastic seasonal sceenries. Winter may not be the best season to go out actively, but it is a waste if you don't enjoy Japanese winter while you are in Japan to travel around. Magnificent snowy landscapes and Christmas illuminations cab be seen only in winter. If you are coming to Japan during December, visit these places.