photo by Sonia Belviso
About two decades ago, smoking was allowed in JAL airplanes during flight, can you believe this? It sounds incredible now, but people used to smoke wherever whenever they wanted, and no one blamed them for doing so. But today, smoking regulations are getting more and more strict all around the world. In Japan too, smoking is more and more controlled by regulations to catch up with the world standards. 
Regulation of indoor smoking in Japan
The Japanese society was quite tolerant to smokers until recent compared with other countries. While smoking in enclosed public areas is banned in many countries, seeing someone smoking in restaurants, though at least smoking areas are separated, was quite common in Japan. In fact, many restaurant chains still provide smoking areas and non-smoking areas by separating them with air curtain devices. However, the Japanese government and Tokyo city finally announced introduction of new smoking regulations in order to solve passive smoking issues before the 2020 Tokyo Olympics. In Japan, regulations of smoking slightly differ depending on cities because such regulations are enacted by local governments. Therefore, rules for indoor smoking are different from one city to another. For example, Tokyo city will introduce the following smoking regulations from 2020.
Enclosed public space
No-smoking on entire premise: Nursery centers, pre-schools, primary schools, junior high schools, high schools
Smoking area may be installed outside buildings: Universities, medical institutes, child welfare facilities (excluding nursery centers and pre-schools), buildings of administrative body and public transport company
Other public space (excluding eating venues)
No indoor smoking, smoking is to be built outside buildings 
Eating venues
Choose from smoking or non-smoking: Eating place with no employees, the premise of which doesn't exceed 100sqm, and the capital fund of which doesn't exceed 50 million yen.
No indoor smoking: All eating facilities that don't meet the above condition.
 Smoking purpose facilities
Smoking allowed: Public indoor smoking areas, smoking purpose facilities such as tobacco shops and bars that sell tobaccos, cigarettes etc.
Smoking regulation in public transports
In Japan, smoking in public transports is strictly banned. All aviation companies prohibit their passengers from smoking inside aircrafts. Also, smoking on trains is prohibited most of the time. 
Trains: No smoking cars except for part of Tokaido, Sanyo and Kyushu Shinkansen, in addition to some sleeper trains
Airlines: No-smoking on all international and domestic flights
Ferries and other vessels: No-smoking except for designated smoking are on vessel
Bus: No-smoking on all vehicles
Regulations for smoking on streets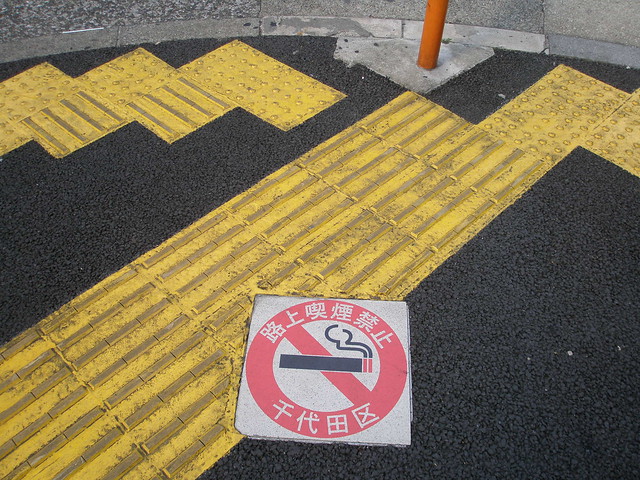 photo by くーさん
You may think that you can smoke on the street if indoor smoking is banned. But the harshest part of Japanese smoking law is "No-smoking on streets rule". This regulation with penalty was first implemented in Chiyoda-ku, Tokyo in 2002. After that, many other wards and local cities followed Chiyoda-ku and prohibited smoking while walking and riding a bike, trashing cigarette buts and smoking on streets. In most municipalities, a person who violate the regulation will face 1000yen to 50000yen penalty.  
Also, the areas that street smoking is prohibited are determined by each local government (e.g. Almost all streets in Chiyoda-ku are subject to anti-smoking regulation). You can see the above sign or similar on the no-smoking streets.
About heated tobacco and vaporizer
The demands for heated tobacco systems, which is used by electrically heating tobacco leaves in a device, and vaporizers, which heats tobacco flavored solution to inhale an aerosol, are rapidly growing in the market as a substitute of conventional cigarettes and tobaccos. These two are regulated in the same way as ordinary cigarettes and tobaccos when used inside the public facilities.
However, regulations on use of heated tobacco and vaporizer on streets are not very consistent among municipalities. For example, in the central Tokyo, use of heated tobaccos and vaporizers on streets is regulated as below.   
Prohibit both heated tobacco and vaporizer: Ota-ku, Shibuya-ku, Shinagawa-ku
Prohibit only heated tobacco: Suginami-ku, Arakawa-ku, Chiyoda-ku, Kita-ku
No regulations: All words other than the above
So, where can we smoke?
After reading these anti-smoking regulations of Japan, probably you are wondering where you should go to smoke. After all, smoking is allowed only at the following places.
Public smoking areas (e.g. smoking room at stations and shopping centers)
Smoking areas in restaurants
Outdoor place where an ashtray is located (e.g. outside of convenience stores and street smoking space)
Tobacco shops and bars that allow smoking
Note that, smoking is allowed at places that ashtrays are located (e.g. outside of convenience store), even though the place is located in a no-street-smoking area.
Things are a lot different now…
Smoking regulations are getting harsher and harsher. Even Japan is no longer so tolerant to smokers. It is so unfortunate for smokers because. Once extra regulations come into effect in 2020, where can they go to smoke? The worst part is that smoking on street is prohibited. This is because Japanese smoking control is designed to prevent passive smoking by third parties, while other countries ban smoking in public areas to protect human health. Good news is that local governments are building public smoking areas on streets in addition to public facilities. If you want to smoke, the best place is one of these public smoking spots.