photo by Seungbong Lee
The summer heat has finally gone, and autumns has come. In Japan, it is often said that autumn is the best season to enjoy art. In fact, a nice and cool climate with clean air makes you feel like visiting a museum and appreciate artworks. This column will introduce five must-visit museums among Japanese museums in many categories.
Nezu Museum (Minato-ku, Tokyo)
photo by Kentaro Ohno
Nezu Museum in Minato-ku, Tokyo is an art museum with a rich collection of Japanese and other Asian artworks including calligraphies, Japanese paintings, ceramics, Buddhist statues and other sculptures and dyed artworks. This museum was established to exhibit the private collection of Kaichiro Nezu, a Japanese business man. The building of the museum is the former residence of the Nezu family, partially renovated. This is a rather small museum, however, the number of artwork at the time of opening was 4600, and today, they own more than 7400 highly valuable artworks. Among their collection, seven items "Irises" by Ogata Korin and "Nachi Waterfall" of the Kamakura period are designated as national treasure, and there are 87 Important Cultural Properties and 94 Important Art Objects. The display is regularly changed in order to preserve the condition of the artworks, and visitors can also enjoy seasonal events on specific categories of art are scheduled. This museum is the best spot in the middle of busy Tokyo city to relax and appreciate the beautiful Asian arts and garden in a peaceful air.
Nezu Museum
Address:6-5-1 Minami-Aoyama Minato-ku, Tokyo
TEL: 03-3400-2536
Access:10minutes' walk from Omote-Sando Station of Ginza Line, Hanzomon Line and Chiyoda Line
Admission Fee: Adult 1100yen, Student (High school and higher) 800yen
Edo-Tokyo Museum (Sumida-ku, Tokyo)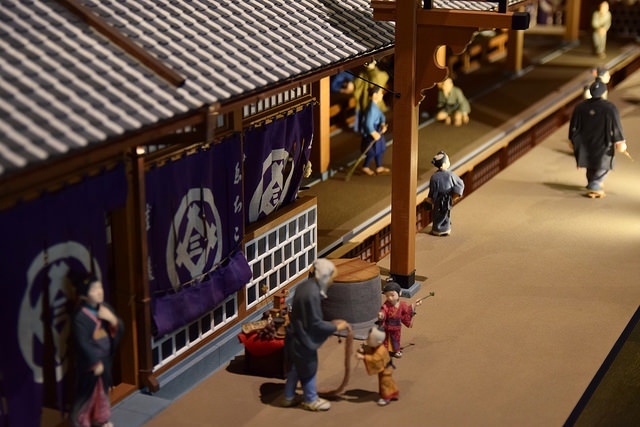 photo by Raita Futo
About a thousand years ago, when an aristocratic culture was blooming in Kyoto, the place current Tokyo is located used to be just a small group of little settlements that was not even a township. It was after the first Tokugawa shogun Ieyasu had opened the Tokugawa Bakufu (a feudal Japanese military government) that Edo, the predecessor of current Tokyo, started rapid development as a city. Since then, the city has changed its name from Edo to Tokyo, and is still growing as the economic and cultural centre of Japan. The Edo-Tokyo Museum informs us of the transitions of the city in details from the Edo period up to the modern days. Words like Shinjuku, Ginza or Nihonbashi are now recognized just as name of suburbs, however, such suburb names originally came after their local roles in the society. Also, this museum shows the displays about Japanese traditional culture including Kabuki and Sumo wrestling, Japan's westernization, and many more displays about establishment of the city that you never notice just by visiting current Tokyo.
Edo-Tokyo Museum
Address: 1-4-1 Yokoami, Sumida-ku, Tokyo
TEL: 03-3626-9974
Access: 3minutes' walk from Ryogoku Station of JR Sobu Line
Admission Fee: General 600yen, Uni Student 480yen, Junior high school Students (Not from Tokyo) & High school Students 300yen
Hiroshima Peace Memorial Museum (Hiroshima city, Hiroshima)
photo by Kagami
72 years has passed since the dropping of the atomic bomb on 6th August 1945. Hiroshima Peace Memorial Museum was opened in 1955 to convey the frightful impact of the atomic bomb and the effort that Hiroshima city has been making for global peace. The exhibition at this museum incudes belongings left by the victims, pieces of rubbles, photos as well as the large diorama of Hiroshima city before and after the atomic bombing. A large number of items such as an old lunch box with burnt out contents and glass bottles deformed by extreme heat convey the terror of the bombing. This museum is currently undergoing a large-scale repair work. The East building re-opened in 2017 and the main building will open in 2019. There were hearing sessions by the survivors a few decades ago, however, having such sessions has become difficult as those survivors age. The real experiences of atomic bomb survivors are open to the public at Hiroshima National Memorial Hall for the Atomic Bomb Victims.
Hiroshim Peace Memorial Museum
Address: 1-2 Nakajima-cho, Naka-ku, Hiroshima
TEL: 082-241-4004
Access: 25minnutes by tram or 20minutes by bus from JR Hiroshima Station
Admission Fee: Adult (Uni student or higher) 200yen, High School Student 100yen
Adachi Museum of Art (Yasugi city, Shimane)
photo by brian_ytsu
In Yasugi city surrounded by beautiful forest, Adachi Museum of Art was opened by Adachi Zenko, a successful businessman from this city, in 1970. Fascinated by the fine arts since his childhood, Zenko was well known as a dedicated supporter of Japanese painters and ceramicist such as Yokoyama Taikan and Kitaoji Rosanjin as well as a collector of their artworks. The valuable art collections of Adachi Zenko can be seen in the display room of Adachi Museum. Also, this museum is internationally known for its Japanese style garden. There are so many places known for gardens, however, the garden of Adachi Museum is perfectly designed to match the hills and forests in background scenery as if these are in one piece of painting. In fact, the garden is maintained with great efforts and regular pruning and transplanting of trees is conducted to prevent the appearance of the garden from changing due to overgrown trees. While visitors allowed to walk around in the other gardens, strolling in the garden is prohibited at this museum. It can only be seen from inside of the building through windows just like paintings. It becomes a hanging scroll in a small Japanese tea room, or can be a large picture through the huge window on the wall of corridor. You can enjoy the beauty of Japanese garden from a different viewpoint.
Adachi Museum of Art
Address: 320 Furukawa-cho, Yasugi, Shimane
TEL: 0854-28-7111
Access: 20minuntes by shuttle bus from JR Yasugi Station
Admission Fee: Adult 2300yen, Uni Student 1800yen, High School Student 1000yen, Junior High School and Primary School Student 500yen
Otsuka Museum of Art (Naruto city, Tokushima)
photo by Shoko Muraguchi
"Monnaliza" by Leonardo Da Vinci and "The Birth of Vinus" by Sandro Botticelli from the Renaissance, Picasso's "Guernica", "Sunflowers" by van Gogh, "The Kiss" by Gustav Klimt, "Metamorphosis of Narcissus" by Dali and "Madame Pompadour" by Amedeo Modigliani, what if you can see all these famed paintings all at once? As you guessed, all the artworks displayed in Otsuka Museum of Art are replicas. However, these are not imitative paintings. All the paintings in this museum are produced by analyzing the colours of original arts and precisely transferring the image to ceramic tiles. The original copies of those famous paintings are mostly oil paintings or fresco paintings that are typically vulnerable and require extreme care. Naturally, touching such paintings are never permitted. All the pictures in Otsuka Museum are to be enjoyed without worrying about deterioration of materials. Also, you will be surprised how precise these copies are. Among other pictures, the replica wall paintings of the Sistine Chapel of Vatican city is must-see!
Otsuka Museum of Art
Address: Naruto Park, Naruto-cho, Naruto-shi, Tokushima
TEL: 088-687-3737
Access: 3 minutes from Kobe-Awaji-Naruto Expressway Naruto Kita Interchange to Naruto Kaikyou
Admission Fee: General 3240yen, Uni Student 2160yen, High School, Junior High School and Primary School Student 540yen
Life is creation
All the museums in this column have unique features in their collections such as Japanese antiques, the traditional Japanese garden, detailed exhibition about history of the city and elaborate replicas produced by the special technology. These five museums are internationally well known, however, there are many more museums with wonderful exhibitions. When you are going to Japan, it is a great idea to check local museums in the areas you are visiting.